According to a Russian newspaper Schneider married his girlfriend on May 14th. He and Regina live in his home and she walks to work every morning as its so close to his home. They met when the band was in Moscow during their last gig. She works for a tourist agency that showed them some of the things around Moscow. Schneider asked her friend for Regina's phone number and the friend gave it to him because she didn't think he'd actually call her. He did a couple weeks later and invited her to germany. Since then they've been together as much as they can be. Schneider looks very happy and I hope that he is as happy as he looks. Congrats to them both and I hope they have a long happy love filled life.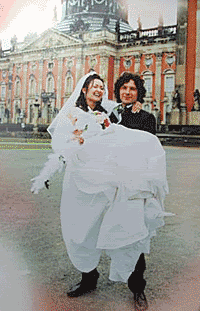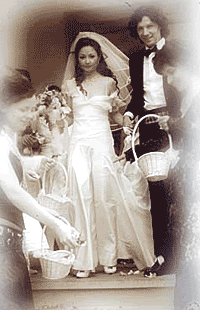 Some of the points from the article:
Policemen surrounded the area where the wedding took place and the hotel(Potsdam), so that none of the German paparazzi could get close to them.
They live in Berlin but don't see each other as often as they'd like because Schneider is often away on tour.
Schneider learned to waltz for the wedding since they traditionally don't dance and he wanted to dance with her at his wedding.
She is 10 and a half years younger than him.
They only speak English to one another because both know the language. Schneider is just learning Russian and she is just learning German.
He proposed to her in Vienna where he said to her that he wanted it that she'd always be with him. (THAT IS SO SWEET!)
His mom is a music teacher and his dad is a director at the Berlin Opera.
They had a traiditonal Russian wedding because that is what she wanted.
His mom immediately saw Regina as her daughter to be and she never felt this way about his first marriage.
They look very happy. I wish them both the best. He's so cute. They're adorable. How could you not want the best for both of them.